Totty Roots
Research Group
Totty Tottey Tottye Totly Toty Tottie Tolty Toddy &etc.
Totty Roots Master Index

Dedicated to the Support of FREE Genealogy Research on the Internet
Do NOT Link these Web page's to any fee or pay sites!
IMPORTANT: See Copyright Restrictions violation's should be reported to totty-owner@totty-families.org
THANK you for stopping in to visit our Web Site! Take a look around and enjoy your Visit!


REMINDER - Book Mark this Page!


Introduction to Totty Roots
(Digging for our Totty Roots and finding the leaves on our Totty genealogy tree)
The Totty Root's Research Group is an informal, non-profit entity consisting of our Totty-Families Research Group Mailing List Members (subscribers). Our Primary Goal for "TOTTY Roots" is to Fully Document our Totty-Families and their Associated Lines. The Secondary Goal is to utilize our Totty Roots Mailing List to Share Records which we then discuss, analyze and add to our Totty-Families aka Totty Roots Research Group Web Site where you will find our Records and Documented Genealogies. We at TOTTY Roots are dedicated to protecting the rights and privacy of our living relatives. We encourage all involved in Genealogy Research to omit Vital information on any of our family members who are still LIVING, UNLESS you have their express and or written permisson. We need to protect our descendants, while we search for our ancestors. PLEASE do your part to protect and respect the privacy of everyone when placing information on the web.
Please be aware I am slow, which makes me get way behind as I work for my husband, plus have children and grandchildren, that I dearly love, who take up a lot of my time. My intention is to be as correct as humanly possible, but I may make unintended mistakes or errors when I type, so please do not be offended, PLEASE call the error to my attention and I will gladly make the correction ASAP.
The Totty Roots web pages are copyrighted under international copyright law, and may NOT be used for monetary gain in ANY form. These pages are not to be copied, or placed on any other web site, including online databases and archives, without written permission. All information is copyrighted by Birdie (Totty) McNutt. This is to protect any an all information donated to our TOTTY research group, however the original copyright is retained by the original submitter of that information. Unless otherwise stated any donated material is given to Birdie (Totty) McNutt to make the said information available on any TOTTY Roots related pages maintained by Birdie (Totty) McNutt. These web pages were originally dedicated to the memory of my father Vernon Estell TOTTY at its inception in December of 1998. They are also dedicated to all those TOTTY & Associated family researcher's who have sent family information, documentation, deeds, wills, census records etc., on ALL the TOTTY family lines. Without the help of everyone these pages would not exsist. Thank You All. All mistakes, errors are my own. If you find a error or something that needs to be corrected, updated or have constructive suggestions send email to totty-owner@totty-families.org

In the asking comes sharing;
in sharing comes knowledge;
in knowledge comes wisdom lasting a lifetime!



What's New & What's Happening @ Totty Roots
click on hi-lighted link above to see What's New



Totty Roots Search Engines
Click on hi-lighted link's below to search for our Totty Families
We have Two Search Engines:
1) for our Totty Roots Web Site:
2) for our Totty Roots Mailing List Postings:=List Archives



Totty Roots & Families

Favorite Genealogy Research Link's
*NOTE: If any of the LINKS do not work
PLEASE email additions, correction or question to:


totty-owner@totty-families.org



click on hi-lighted link below to see Official Record
Totty Roots Official Record

Read My Guestbook! | Sign My Guestbook!
Free GuestBooks by Phaistos Networks!

Copyright Information and Restrictions: Our Totty Roots Research Reports have been provided for the free use of those engaged in NON-commercial genealogical research by our Totty Roots Research Group. Any and ALL commercial use is strictly prohibited. These documents may be included in your own genealogy, however ALL these documents are copyrighted (to or by the authors to whom they are credited herin and copyright thereto) and may NOT be sold, nor given to anyone who may attempt to derive profit from these records.
Researchers may copy and distribute this work freely, but with the proviso that it may only be copied and circulated in its entirety -- including this notice, as well as all sources, bibliographies and credits. However, permission is NOT Granted to copy ANY Totty Roots Research Files to other electronic locations - whether web pages or list postings.
Sincerely, The Totty Roots Research Group

Please email additions, corrections or questions to: totty-owner@totty-families.org

Remember the Research you SHARE today will help your Decendants in the Future
THANK YOU for visiting with us, Please come back again!

This page was last updated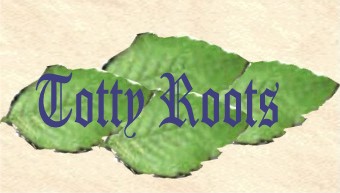 All Totty Roots Images created by Birdie (Totty) McNutt©
©1998-2012 Totty Roots Research Group*, ALL Rights Reserved.